Tags
Related Posts
Share This
Expired: Goal Setting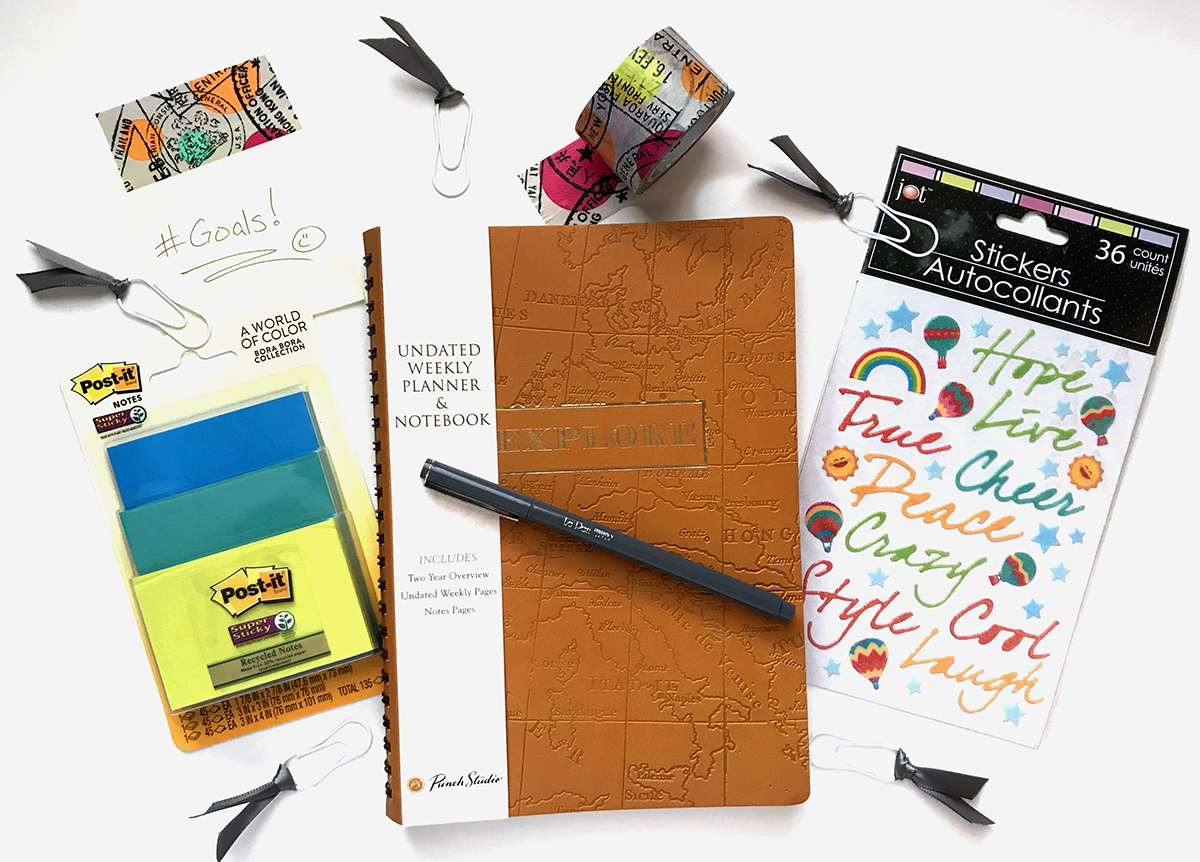 Yes, yes; I know.  I have a slight obsession with journals, planners, and the like.  It's certainly no secret.  Fortunately for you guys, that means every time I find a super cool one, chances are I'm going to buy it and give it away (because I already own a plethora of them and I don't particularly need to add to my collection).
So without further ado…  It's giveaway time!!!  January is nearly over and perhaps you're already well into accomplishing all those New Year's resolutions …or… maybe you have yet to start.  Either way, this giveaway could be just the thing to help get you organized and make 2018 your year to shine.  This planner is conveniently undated so that you can start right now where you are – no excuses.  You can start planning and goal setting as soon as it's in your hot little hands.  I've also included a few accessories, because well, they're just fun.  Sadly, there can only be one lucky winner though, so read below and find out how to enter.
Side Note: I'd like to point out that only the accessories are overly feminine; the planner itself is rather unisex.
Here's How to Win:
First: You have to be a Subscriber to the blog to win, not just a Facebook or social media follower.  (And no; I absolutely do not share your email address.) If you're not a Subscriber, sign up by going to the "Follow the Blog" section on the sidebar.
Next: Like, Comment, & Share the Facebook and/or Instagram post about this giveaway.  If you don't "do" social media, I totally understand.  You can still share with your friends in person (you know, the normal way), but please let me know that you did via the contact form on the blog since otherwise I have no way of knowing you participated.
The Prize: Planner and accessories (pictured above)
Includes:
Planner (with undated weekly pages)
Scotch washi tape
Dark grey fine tip pen
Package of Post-it sticky notes
Five placeholder bookmarks
Stickers (because who doesn't like stickers?)
Drawing:
January 26, 2018
As always, it will be a fair contest and Olivia, my daughter, will pick one lucky recipient.  No worries; I'll even make her close her eyes.  That way there won't be any favoritism haha.
Announcement:
Once the winner is determined, I will send them a congratulatory email (I'll need an address to send the prize to as well –sorry, US only).  I will also update posts on the blog and social media to announce the winner publicly.
Good luck!
~~~~~~~~~~~~~~~~~~~~~~
Congratulations to Sasha Cantley; you're the lucky winner!!! You did say, "I need all the help I can get!" Haha, well help is on the way.
As always it was a fair and square drawing. I even make Olivia close her eyes. She absolutely loves her job of "official name-picker" and she's already looking forward to her next drawing, so stay tuned…